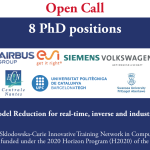 The Initial Training Network AdMoRe (Advanced Model Reduction for real-time, inverse and industrial problems) has announced an open call with 8 PhD positions available.
AdMoRe is a Marie Sklodowska-Curie Innovative Training Network in Computational Models and Numerical Methods, funded under the 2020 Horizon Program (H2020) of the European Comission.
See more details here.